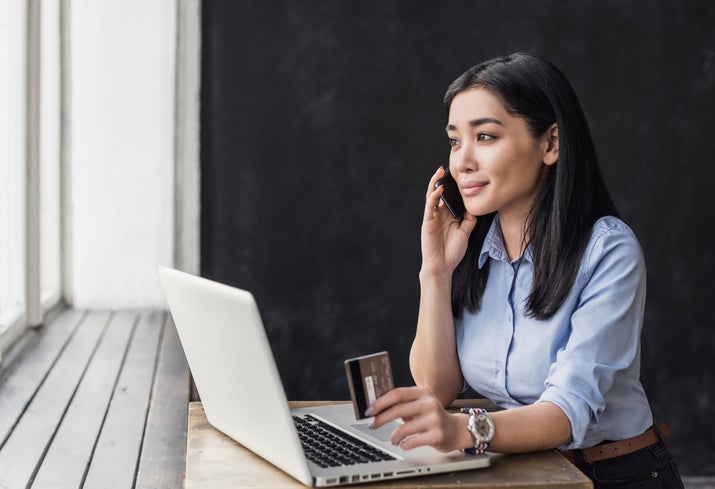 It pays to apply in November.
---
Key points
Sign-up bonuses are a way to snag free cash.
While meeting the spending requirements for them can be tricky, you may have an easier time in the coming months.
You can use your new card to pay for your holiday purchases to make that spending requirement.
---
There's a reason consumers tend to chase credit card sign-up bonuses. Often, they're a great way to score free cash in the course of your everyday spending.
But some sign-up bonuses are harder to snag than others. It's one thing if you're chasing a sign-up bonus worth $250 that comes with a $1,500 spending requirement during the three-month period after you open your new card. But chasing a $250 sign-up bonus with a $3,000 spending limit during that same time frame may prove more challenging.
And to be clear, you don't want to just spend money on things you don't want or need to snag a sign-up bonus. If you do that, you may not come out ahead financially.
Discover: This card has one of the longest intro 0% interest periods around
More: Consolidate debt with one of these top-rated balance transfer credit cards
Let's say you typically spend $600 a month on credit card purchases but need to spend $3,000 in three months to walk away with a $250 bonus. If you force yourself to spend an extra $1,200 during those three months, you won't gain $250 — you'll lose $950.
But if you're going to try to snag a credit card sign-up bonus, now's actually a pretty good time to do it. Here's why.
Take advantage of all that holiday spending
Many people spend a lot more money during the period between late November and Christmas than they do during a typical month of the year. And if you expect to see a huge uptick in your spending in the coming weeks, then it could be a good time to capitalize on a sign-up bonus.
Going back to our example, you might normally charge $600 worth of credit card expenses a month. But if you have an extensive gift list and also need to travel for the holidays, and you're looking at a $3,000 spending requirement, then you may have no problem meeting it.
Of course, this strategy really only works if you've saved up for your holiday gifts and travel ahead of time. You don't want to carry a balance forward on a new credit card and rack up costly interest in the process. But if you have the money to pay for those extra purchases, and you manage to get your credit card application in and approved quickly, then you might land in a position where you can snag a sweet bonus — and use that extra cash to help offset some of your holiday expenses.
The right strategy is key
The holiday season isn't the only time during the year when it pays to chase a credit card sign-up bonus. You can also time those new credit card applications to align with periods where your spending is likely to increase for a specific reason — say, you're doing a home improvement project or are updating your bedroom furniture.
But all told, it's important not to spend money wastefully in the course of chasing a sign-up bonus. And if you employ the right strategy, you might manage to walk away with a nice pile of cash you can feel good about.
Top credit card wipes out interest until 2024
If you have credit card debt, transferring it to this top balance transfer card secures you a 0% intro APR for up to 21 months! Plus, you'll pay no annual fee. Those are just a few reasons why our experts rate this card as a top pick to help get control of your debt. Read our full review for free and apply in just 2 minutes.
https://www.fool.com/the-ascent/credit-cards/articles/why-nows-a-really-good-time-to-get-a-credit-card-with-a-sign-up-bonus/