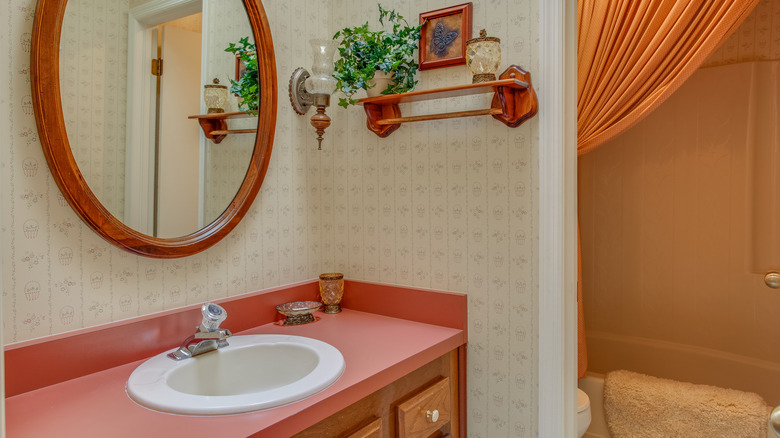 Pipas Imagery/Shutterstock
If you live in an older home, take a moment to consider your bathroom's appearance. Does it have any bright, vibrant paint colors? Are there any frills or small floral patterns? Is there shag carpeting or rugs? If so, the design is probably quite dated.
There are a number of reasons to remodel your bathroom, beginning with the obvious: It will improve the look of the space. Furthermore, if you're planning on selling anytime soon, a modern washroom could increase your home's value. And, an updated style could even make the room easier to clean, as you'll most likely remove some dust-collecting items, per Warner Service.
However, before you begin renovations, first identify which features are aging your bathroom's design. To help with this task, we've gathered 15 things that could be making your bathroom feel antiquated. While some are quite obvious, others are more subtle. Additionally, while some items could easily be fixed, others may require a full renovation.
1. Old-fashioned wallpaper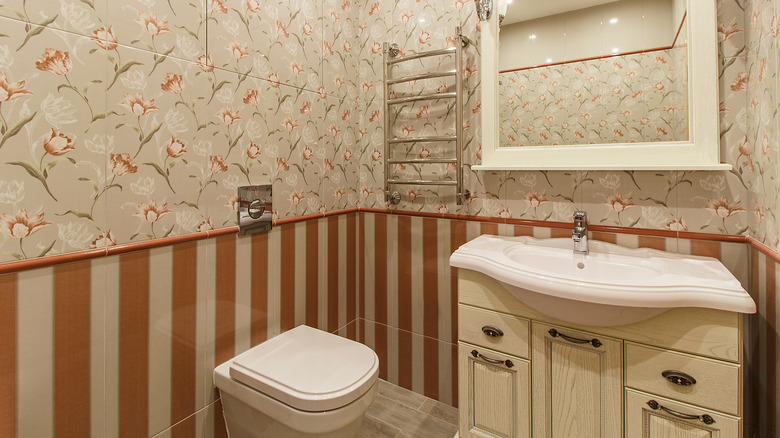 Studio MDF/Shutterstock
Small floral print wallpaper is one of the most obvious ways your bathroom could appear outdated. However, the problem isn't the wallpaper itself, as many newer patterns have a modern look. The real issue is if there's any peeling or if the design feels old-fashioned.
2. Yellow or beige walls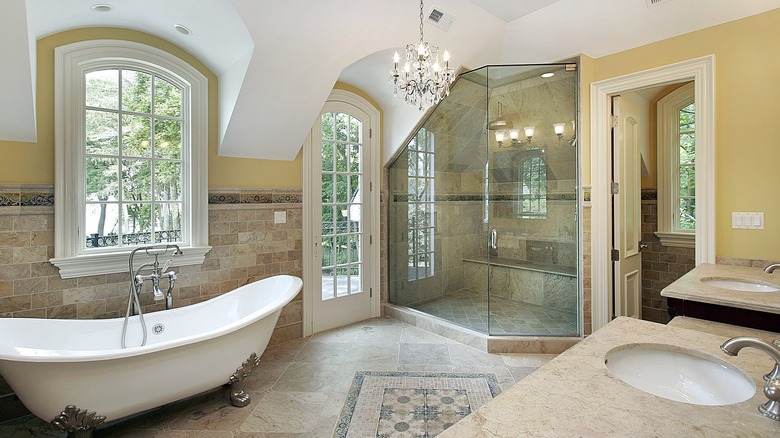 pics721/Shutterstock
Yellow or beige walls are another obvious feature. Luckily, unlike wallpaper, paint color is extremely easy to change. With a fresh coat of white paint (or another color), the above bathroom would get a full facelift.
3. Carpeting
If your bathroom still has carpeting, it's definitely got to go. While popular decades ago, this feature can make a bathroom feel not only ancient, but also dirty.
4. A toilet rug
Furthermore, even if you don't have actual carpets in your bathroom, you may still have a toilet rug, or even worse, a lid cover. Removing both these pieces would make your space appear more sanitary.
5. Bright colors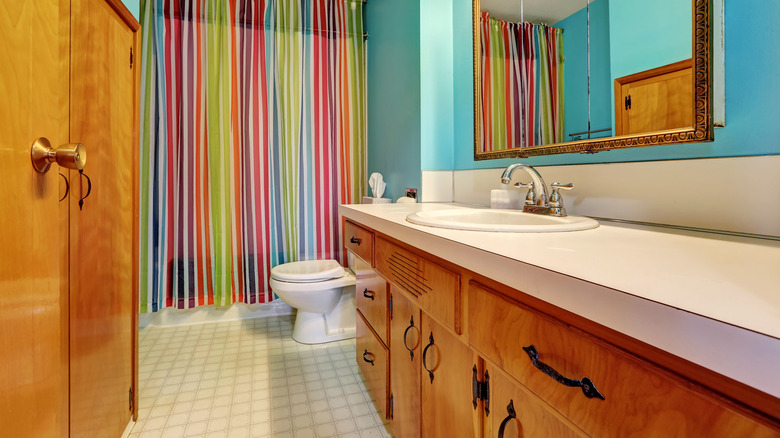 Artazum/Shutterstock
Bright, vibrant colors can make your bathroom appear cheesy and tasteless. However, replacing bold tones with neutrals or muted shades is an easy way to elevate its appearance.
6. An oversized tub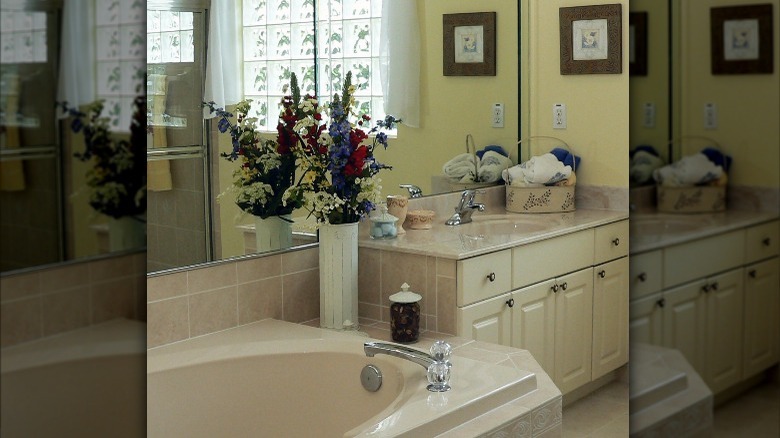 Perry Correll/Shutterstock
While controversial, some believe oversized tubs are a thing of the past, especially if they have jacuzzi jets. This could be for several reasons, including that they take up lots of room and sometimes display older styles.
7. Frilly curtains
Replacing frilly curtains with a more sleek design is an easy way to update your space. Most modern curtains display neutral, solid colors with no pattern.
8. Fluorescent light bulbs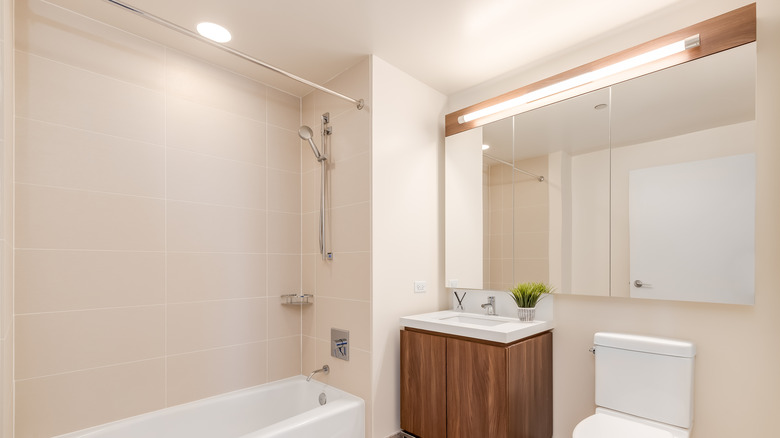 Hendrickson Photography/Shutterstock
Bright, fluorescent light bulbs can make your entire space feel uncomfortable. To update your bathroom lighting, you could easily swap out the bulbs for a design that offers a softer ambiance or a dimmer switch.
9. Pastel tiles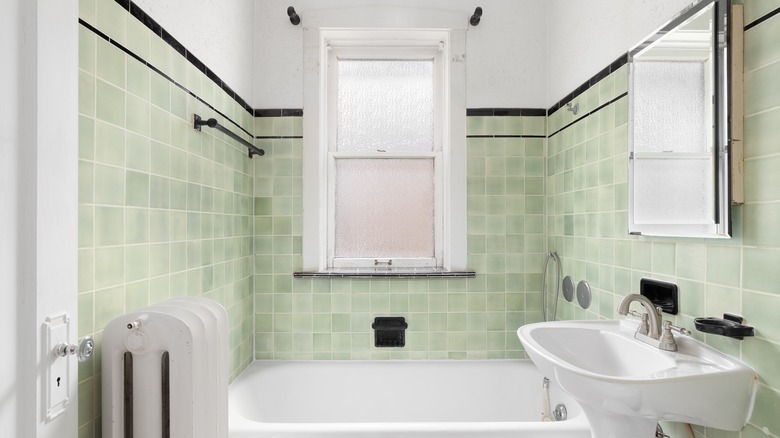 Hendrickson Photography/Shutterstock
While there may be a modern way to use pastel tiles, most of the time, they appear old-fashioned. This is especially true in showers that also have dark trim, such as the above example.
10. Pastel fixtures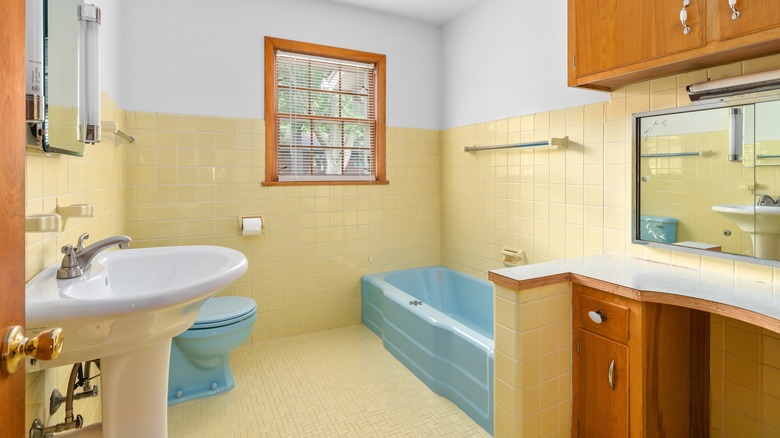 Hendrickson Photography/Shutterstock
Similarly, bathtubs, toilets, and sinks in pastel shades are definitely a thing of the past, as almost every modern bathroom has white fixtures.
11. Faux floral decorations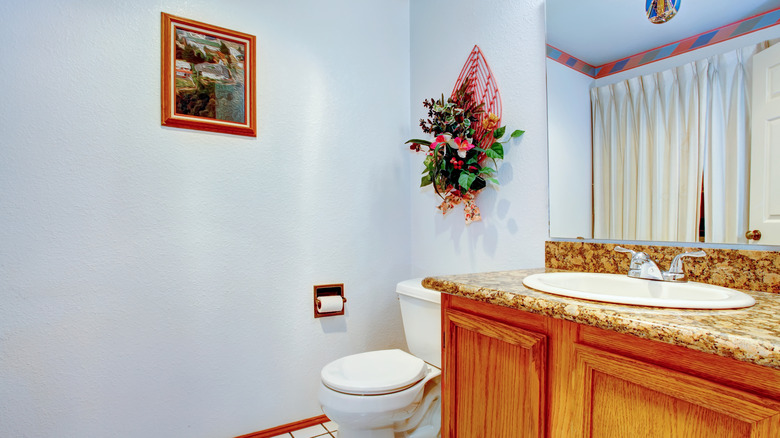 Artazum/Shutterstock
Fake flowers not only make a bathroom appear outdated, but they can also make it feel dirtier, as the flowers are most likely collecting dust. Removing faux floral decorations from the walls or the countertops is an extremely simple way to modernize the space.
12. Glass block wall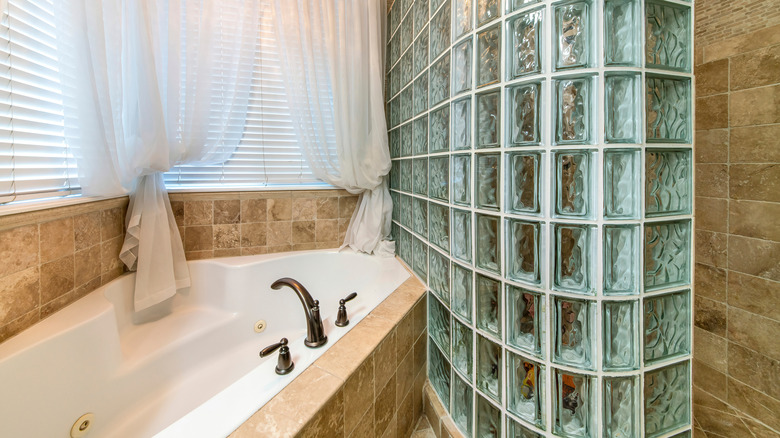 Jason Finn/Shutterstock
Glass block walls or windows were popular decades ago, but have since gone out of style. Replacing them with solid glass will update your bathroom's design.
13. Dirty grout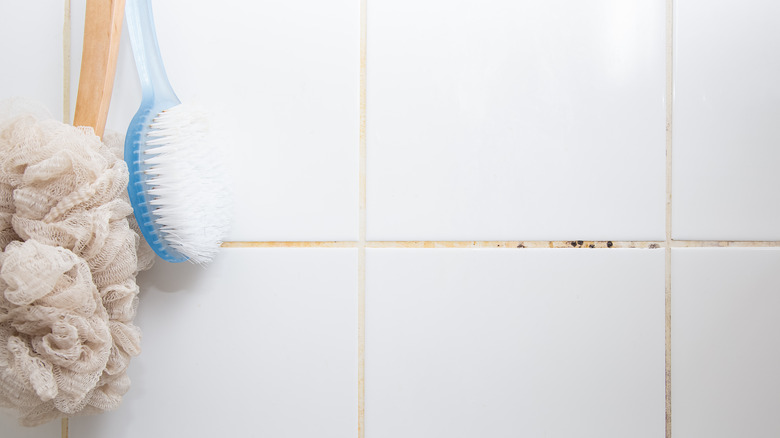 Tapati Rinchumrus/Shutterstock
Dirty grout is a common problem in most bathrooms. However, taking the time to scrub between the tiles (or even regrouting completely) would give your shower a fresh look.
14. A frameless mirror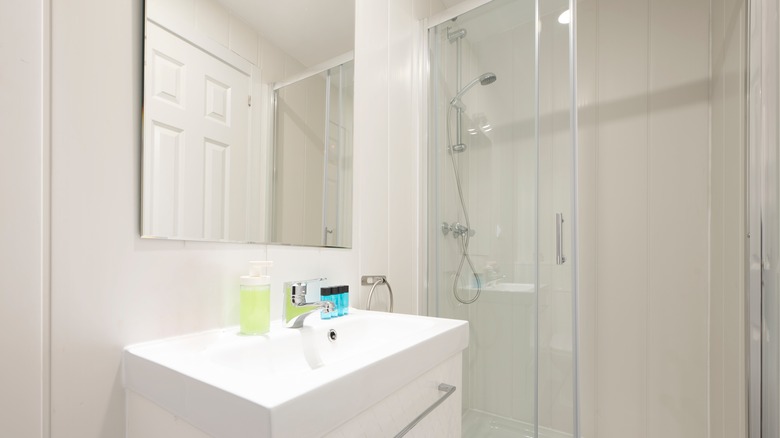 Toyakisphoto/Shutterstock
Here's another outdated culprit in most bathrooms: the frameless mirror. While still installed in newer homes, this mirror could be making your space feel older than it is. Instead, upgrade your vanity by framing the mirror in tiles or wooden trim.
15. A solid-colored countertop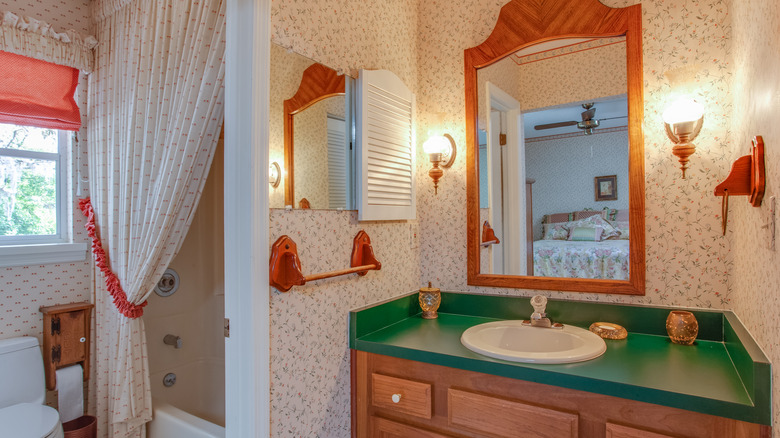 Pipas Imagery/Shutterstock
A bright, solid-colored countertop (typically in green or pink) is definitely an outdated feature that almost everyone agrees should stay in the past. For a more modern look, change the countertop to a natural stone material.
https://www.housedigest.com/1085470/things-in-your-bathroom-that-are-making-it-feel-outdated/